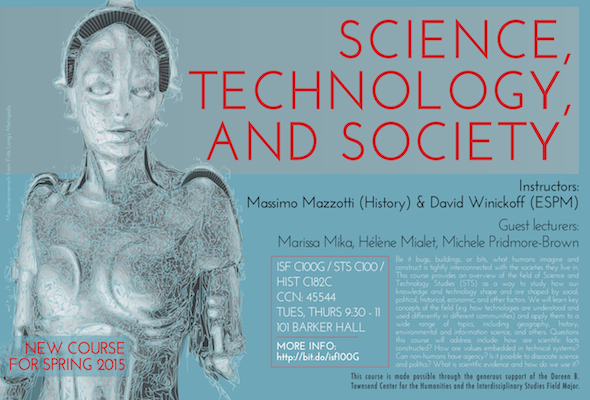 For the first time, CSTMS, in close collaboration with the undergraduate major in Interdisciplinary Studies, will be offering an undergraduate survey course in STS.


Science, Technology, and Society
Spring 2015
Lead Instructors: Massimo Mazzotti (History) and David Winickoff (ESPM)
Guest lecturers: Freyja Knapp, Marissa Mika, Hélène Mialet, and Michele Pridmore-Brown.
Be it bugs, buildings, or bits, what humans imagine and construct is tightly interconnected with the societies they live in. This course provides an overview of the field of Science and Technology Studies (STS) as a way to study how our knowledge and technology shape and are shaped by social, political, historical, economic, and other factors. We will learn key concepts of the field (e.g. how technologies are understood and used differently in different communities) and apply them to a wide range of topics including geography, history, environmental and information science, and others. Questions this course will address include: how are scientific facts constructed? How are values embedded in technical systems? Can non-humans have agency? Is it possible to dissociate science and politics? What is scientific evidence and how do we use it?
Course Details:
STS C100/ISF C100G/HIST C182C
Tuesdays and Thursdays: 9:30-11:00 am
101 Barker Hall
For more information, please visit the Interdisciplinary Studies page for the course. This course is made possible through the generous support of the Doreen B. Townsend Center for the Humanities and Interdisciplinary Studies Field Major.