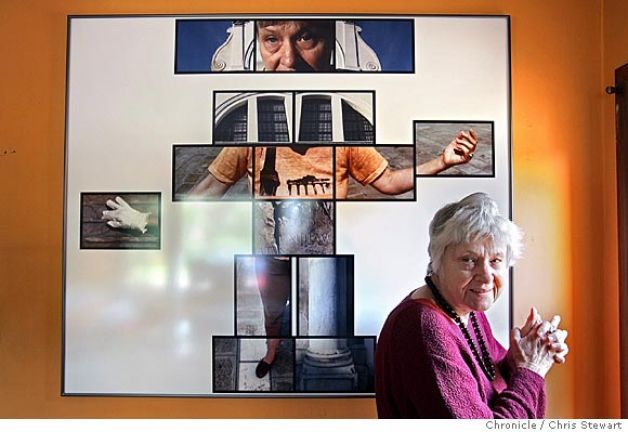 Date/Time
Wednesday - Sunday
26 Jan - 24 Jul 2005

Location
Berkeley Art Museum and Pacific Film Archive
Event Type
Exhibit
Exhibition probes the nature of blindness and the "visual arts"
Berkeley, CA, December 9, 2004 – University of California, Berkeley Art Museum and Pacific Film Archive (BAM/PFA) presents Blind at the Museum, an exhibition on view in the museum's Theater Gallery from January 26 through July 24, 2005. Guest curated by Katherine Sherwood, Professor of Art Practice at U.C. Berkeley, and Beth Dungan, Ph.D., Postdoctoral Fellow at the Center for Medicine, the Humanities, and Law, Blind at the Museum investigates the nature of blindness and the "visual arts" in works by numerous artists who probe the limits of optical experience.
An art museum would seem to be no place for the blind, as co-curators Sherwood and Dungan remind us. "Yet art objects address many sensory mechanisms — touch, hearing, scent, taste — and thus offer an opportunity to reconsider the process of 'viewing' or responding to art. Visual artists are often thinking about the very nature of vision: What does it mean to 'see'? … And what are the limits, or the liabilities, of the gaze?"
Blind at the Museum explores visual experience in works by Sophie Calle, a French artist known for her series on blindness; sculptor Robert Morris; multimedia artists Theresa Hak Kyung Cha and Joseph Grigely; photographers John Dugdale and Alice Wingwall, and others. The artists in the exhibition address the nature of visual experience from a variety of perspectives: some emphasize sound, touch and multisensory experience; others probe the unreliability of vision, or rethink the process of viewing within a museum; yet others explore metaphors and stereotypes of blindness.
Works in the exhibition examine vision as a wide range of optical phenomena — such as floaters, peripheral vision, and distortion — that occur along a visual continuum. Photographer John Dugdale, for example, depicts optical aids, from eyeglasses to camera lenses that form part of his photographic process. Alice Wingwall's photographs depict her lived experience of blindness, using panoramic cameras and other technologies to give a visual 'warp' to her images. With a background in sculpture and architecture as well as in photography, Wingwall invites the viewer to experience her renegotiation of beloved architectural sites in a series of photographs of her guide dog Joseph.
In this exhibition and at the related Conference (see below), the curators propose a rethinking of questions of 'access,' disability, and the museum. Prompted by recent disability rights legislation, museums around the world have attempted to make their collections more accessible, but this tends to relegate blind patrons to "special" programming and collections. Blind at the Museum addresses issues of intellectual access to visual art, such as: What is the relation between seeing and knowing, between words and images? How is blindness represented in visual art? How do artists with impaired sight represent visual experience? How does the idea of the "blind photographer" or "blind painter" question and change the museum as an environment for aesthetic judgment and experience? What role can technology play, as both tool and artistic medium, in the accessible museum of the future?
"Often, concerns about access address the physical environment and design — large font size, ramps — rather than diversifying perceptual and intellectual access to artwork," write Sherwood and Dungan. "If technologies of vision (such as lenses) change our experience, if peripheral vision, blind spots, or floaters influence our notions of looking, how might alternative perspectives and technologies invite us to adopt new behaviors and approaches? As part of a larger movement of institutional critique, Blind at the Museum prompts us to reconsider the practice of looking within the museum, to imagine new ways of seeing and knowing for all viewers."
Special programs related to the exhibition include a Curators' Talk (Jan. 27), a screening of Derek Jarman's film Blue (Feb. 17), and a two-day conference on the nature of vision (March 11-12). Program details are below.
Braille labels and large-type text of accompanying materials will be available for museum visitors.
A companion exhibit at the Townsend Center Gallery on the Berkeley campus showcases the work of photographer Alice Wingwall, a featured artist in Blind at the Museum (at the Townsend Center, 220 Stephens Hall, February 17 – April 4).
Guided Tours
Students from Katherine Sherwood's Fall 2004 Undergraduate Research Apprenticeship Program course, who have researched blind access to visual art, and graduate students from UC Berkeley's History of Art department will offer tours of the exhibition on selected dates beginning in March. They are also available to give tours to groups visiting the museum by advance arrangement.
Public Programs
Curators' Talk: Beth Dungan and Katherine Sherwood
Thursday, January 27, 2005, 12:15 p.m., Theater Gallery
What does it mean to see? And what does visual impairment bring to the visual arts and museum practice? The museum kicks off a series of Gallery Talks for Blind at the Museum with this presentation by the exhibition's co-curators. With reference to artworks in the exhibition, the curators will address topics of blindness, visual impairment, and viewing, and artistic strategies that highlight these issues both literally and metaphorically.
Sherwood will teach a spring course at Berkeley titled Art, Medicine, and Disability, which will study topics central to the exhibition and related conference (see below).
Special Film Screening
Derek Jarman's Blue
Introduced by Anne Walsh and B. Ruby Rich
Thursday, February 17, 2005, 5:30 p.m., Museum Theater
Derek Jarman made Blue (1993), the final work of his 22-year filmmaking career, as a meditation on blindness, having lost his vision as a result of AIDS-related CMV (Cytomegalovirus). Featuring a soundtrack collaged from music and readings, and a glowing, nearly monochromatic blue screen, Blue offers audiences a direct encounter with the experience of limited visual perception and explores the relationship between abstraction and the body, looking and seeing, and sound and image.
As an introduction to Jarman's film, BAM/PFA presents a pre-screening discussion with Anne Walsh, assistant professor in U.C. Berkeley's Art Practice Department, and B. Ruby Rich, faculty member in the new Social Documentation graduate program at UC Santa Cruz. Walsh's work in the area of video and performance will help illuminate Jarman's representation of his changing body through an abstract film. Rich's broad experience curating and critiquing independent film and New Queer Cinema (a term she coined) will help locate this work within contemporary film practice.
Gallery Conversation
Georgina Kleege and Katherine Sherwood
Thursday, March 3, 12:15 p.m., Theater Gallery
Addressing issues of blindness, visual impairment, and visual, tactile, and verbal modes of communication, Georgina Kleege and Katherine Sherwood will discuss the selection of artists and artworks for this exhibition. Georgina Kleege is an author and educator who has taught creative writing, literature, and disability studies, and is a faculty member in UC Berkeley's English Department. Katherine Sherwood serves on the Board of Disability Studies and is a professor in UC Berkeley's Art Practice Department.
Blind at the Museum Conference
Friday, March 11, 4 – 7 pm, Saturday, March 12, 10 – 6 pm, Museum Theater
Free and open to the public; sign-language interpretation provided
Scientists, cultural historians, philosophers, literary critics, and artists come together for a two-day conference to discuss a wide range of issues and ideas on visual impairment, art, and the viewer. Georgina Kleege, the author of Sight Unseen, who teaches in UC Berkeley's English Department, will be the keynote speaker. She will be joined by Joseph Grigely, Michael F. Marmor, Michael Davidson, Simi Linton, Andy Potok, and many others.

Guided tours
Guided tours of Blind at the Museum will be offered by students from Sherwood Undergraduate Research Apprenticeship Program course and UC Berkeley Art History Department. Tours will be offered on selected Thursdays and Sundays, beginning in March.
Gallery Talk
Eve Meltzer
Robert Morris's Blind Time Drawings
Thursday, May 5, 12:15 p.m.
Theater Gallery
Robert Morris, in his Blind Time Drawings, 1973 – 2000, prioritizes touch over sight. At the bottom of each drawing, in methodical writing, he describes his process: "With the eyes closed the ten fingers move outward from the center making counting strokes. Two thousand strokes are made in an estimated two minutes." Eve Meltzer, Stanford Humanities Postdoctoral Fellow in the Department of Art and Art History, offers her own insights about these works based on her extensive conversations with Morris and in-depth study of his work.
Sign-Language Interpreted Gallery Talk
Georgina Kleege and Katherine Sherwood
Interpreted by Patricia Lessard
Saturday, June 4, 1:30 p.m.
Theater Gallery
With a focus on multiple modes of communication and alternative ways of accessing visual art, Georgina Kleege and Katherine Sherwood explore works the exhibition in a conversation interpreted in American Sign Language by Patricia Lessard.
Funding for Blind at the Museum is generously provided by University of California Humanities Research Institute, Flora Family Foundation, and, at UC Berkeley: Arts and Humanities, Doreen B. Townsend Center for the Humanities, Consortium for the Arts, and Center for Medicine, the Humanities, and Law.
This event is sponsored by CSTMS.
Additional sponsorship comes from:  Program for the Medical Humanities • Townsend Center for the Humanities • UC Berkeley Art Museum and Pacific Film Archive (BAM/PFA)
Townsend Center for the Humanities