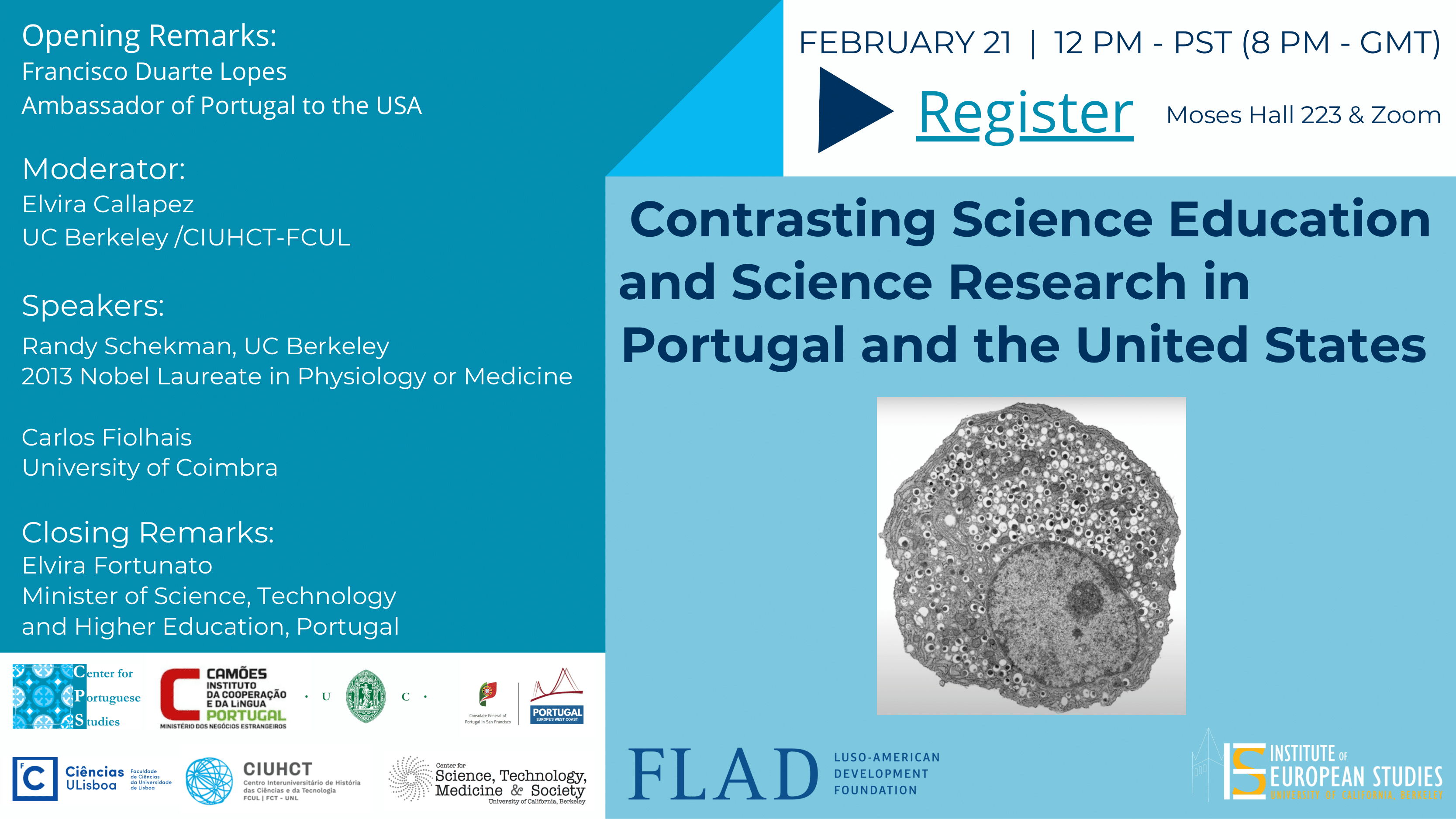 Date/Time
Tuesday
21 Feb 2023
12:00 pm

Event Type
Special Event
In this panel discussion we will compare scientific research processes in Portugal and the U.S. Prof. Randy Schekman will discuss his research in the field of molecular biology, followed by a presentation by Prof. Carlos Fiolhais on his physics research. These presentations will be followed by a discussion on the difference in constructions of knowledge, education policies, and integration in non-academic sectors in the U.S and Portugal which impact scientific research.
Opening Remarks:
Francisco Duarte Lopes, Ambassador of Portugal to the USA
Moderator:
Elvira Callapez, Visiting Scholar, Center for Science, Technology, Medicine, and Society, UC Berkeley / CIUCH-FCUL
Guest Speakers:
Randy Schekman, Howard Hughes Institute Investigator and Professor of Cell and Developmental Biology, UC Berkeley; 2013 Nobel Laureate in Physiology or Medicine
Carlos Fiolhais, Emeritus Professor of Physics, University of Coimbra
Closing Remarks:
Elvira Fortunato, Minister of Science, Technology and Higher Education, Portugal
February 21, 2023 (Tuesday), 223 Moses Hall/via Zoom (hybrid event), at 12pm Pacific Time (8pm GMT)
If you have further questions, please contact: dpinheiro@berkeley.edu. Additionally, if you would like to attend other CPS and IES events please subscribe to our newsletter here.
This event is sponsored by CSTMS.
Additional sponsorship comes from:  CSTMS