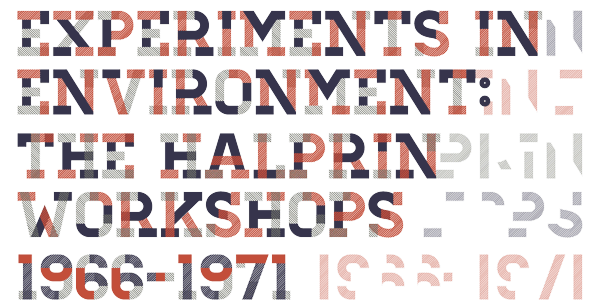 Date/Time
Thursday - Sunday
21 Jan - 3 Jul 2016

Location
The California Historical Society
Event Type
Non-CSTMS Event
Experiments in Environment: The Halprin Workshops, 1966–1971 is on view at the California Historical Society from January 21 – July 3, 2016.
How do you perceive the environment?
In the summer of 1966, renowned American landscape architect Lawrence Halprin (1916–2009) and his wife, dance pioneer Anna Halprin (born 1920), began a series of experimental, cross-disciplinary workshops in northern California that offered a new approach to environmental awareness. Drawn from architecture, ecology, music, cinematography, graphics, choreography, and lighting, Experiments in Environment brought together artists, dancers, architects, and environmental designers in avant-garde environmental arts experiences.
From June 27 to July 22 that summer, they engaged multi-sensory activities in alternating environments according to loosely structured, written guidelines—from movement sessions, to blindfolded awareness walks, to collective building projects, to choreographed journeys in urban plazas, parks, and rail cars. As an article in Progressive Architecture magazine described, "They built their own 'city' on the shore of the ocean and recreated the impact and atmosphere of a metropolis in a multimedia presentation. Dancers became architects and architects became dancers." The series continued in 1968 and 1971.
Hours:
Tuesday – Sunday, 11:00 AM – 5:00 PM
Address:
The California Historical Society is located at:
678 Mission Street
San Francisco, CA 94105
Gallery Admission is $5 per person; we welcome Members and children free of charge. We do not charge for use of our Research Library.
Events:
March 10th: Sea Ranch with Author Donlyn Lyndon
March 12th: History for Half Pints: Sea Ranch, Dance, and Your City!
March 22nd: Peoples Park: A Discussion
April 6th: Social Commentary/ A through Dance Performance
April 9th: History for Half Pints: Earth Month
April 20th: Sand Francisco: 1960s & 70s: Culture Ecology and Experimentation A Panel Discussion with Shaping San Francisco
Contact:
Telephone: 415.357.1848
Email: info@calhist.org