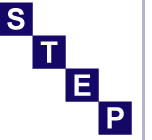 Date/Time
Thursday
6 Mar 2014
5:00 pm - 6:30 pm


Location
470 Stephens Hall
Event Type
STEP Talk
Professor David Zilberman
Robinson Chair in the Department of Agriculture and Resource Economics, UC Berkeley
Sam Mogannam
Owner, Bi-Rite Family of Businesses
GMOs-A Budding Promise Or A Growing Concern?
The Science Technology and Engineering Policy group [STEP], will be hosting their next science policy panel discussion on GMO food on March 6th at 5pm in 470 Stephens Hall.
The discussion will feature:
Prof. David Zilberman and Sam Mogannam.
Professor David Zilberman holds the Robinson Chair in the Department of Agriculture and Resource Economics at Berkeley. He specializes in agricultural and environmental policy, biotechnology, bioenergy, and climate change.
Sam Mogannam is owner of the Bi-Rite Family of Businesses in San Francisco, including the non-profit community-based food education project, 18 Reasons. A professional chef, he published the cookbook Eat Good Food.
This event is sponsored by CSTMS.
Additional sponsorship comes from:  Science, Technology, & Engineering Policy Group