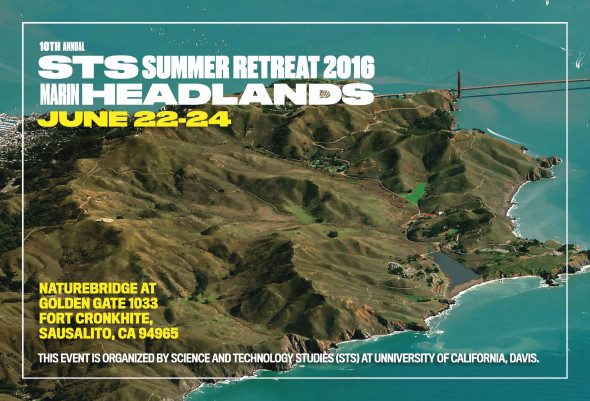 Date/Time
Wednesday - Friday
22 Jun - 24 Jun 2016

Location
Marin Headlands
Event Type
Non-CSTMS Event
It's that time of year again!   Time to start preparing for the 2016 Annual STS Summer Retreat! We'll be celebrating our 10th Anniversary!
We will continue with our successful events from the past including: STS in 2 minutes; dissertation proposal groups; mini-workshops taught by faculty; professionalization sessions (grants, jobs, writing, teaching; visual/film/documentary teaching; nature & beach theory walks; great meals and lots of coffee).You'll probably get a coffee mug!
This year, the attendance will be capped at 60 people – first come first serve! 
All are welcome, appreciated, and expected: grads, faculty, and postdocs from California departments. Since there are limited spots available, we ask that everyone confirm their attendance by sending their registration fee of $120 no later than April 30th. This covers rooms (dorm-style) and meals – transportation is up to you.
Attendence is first come, first serve. Register early/quickly!
Registration Google Form  (note: form is necessary, but receiving the check is what reserves your spot!) 
Feel free to contact Joshua Weiss with any questions you may have about the event or registration.
Joshua Weiss
UC Davis 2015-2016 STS Fellow
@joshuazaneweiss