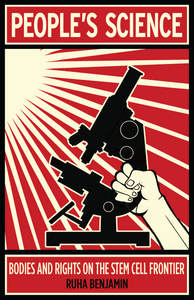 Date/Time
Monday
8 Apr 2013
3:30 pm - 5:30 pm

Event Type
Non-CSTMS Event
Ruha Benjamin
Assistant Professor, Sociology and African American Studies, Boston University
This talk examines the tension between scientific innovation and social equality, taking the reader inside California's 2004 stem cell initiative, the first of many state referenda on scientific research, to consider the lives it's affected. Benjamin reveals the promise and peril of public participation in science, illuminating issues of race, disability, gender, and socio-economic class that serve to define certain groups as more or less deserving in their political aims and biomedical hopes. Under the shadow of the free market and in a nation still at odds with universal healthcare, the socially marginalized are often eagerly embraced as test-subjects or tissue donors, yet still struggle to access new medicines and treatment regimes as patients.
Location: 3333 California Street, S124 Auditorium,  UCSF Laurel Heights Campus
Date: 4/8/13
Time: 3:30 pm
For more information, contact: Megan Dowdell, megan.dowdell@ucsf.edu
Refreshments will be served.
Biography: Ruha Benjamin is Assistant Professor of Sociology and African American Studies at Boston University and an American Council of Learned Societies fellow at the Harvard Kennedy School of Government's Science, Technology, and Society Program. She is actively engaged in community initiatives that investigate the social impact and meaning of new biotechnologies in forensic and medical settings. She blogs about the broader questions of innovation and citizen science at facebook.com/peoples.science and on Twitter  @Peoples_Science.
Sponsored by: UC Medical Humanities Consortium, UCSF Department of Anthropology, History, & Social Medicine, UCSF Institute on Health & Aging, UCSF Department of Social & Behavioral Sciences, Center for Genetics & Society, UC Berkeley Center for Science, Technology, Medicine, & Society, and the UCSF/UC Hastings Consortium on Law, Science, & Health Policy.
This event is sponsored by: UCSF Medical Humanities Consortium