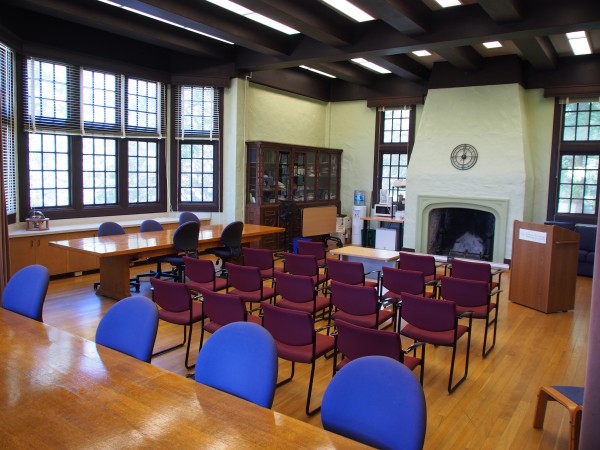 University of California groups may request Room 470 Stephens Hall for various events including lectures, research workshops, colloquia, luncheons, and receptions.
Seating Capacity: 47
HOURS
Room 470 Stephens Hall may be reserved Monday through Friday between 8.00 a.m. and 6.00 p.m.  After hours or weekend events are decided on a case by case basis and subject to a surcharge.
FACILITY USE FEES (EFFECTIVE MAY 2015)
| | | | |
| --- | --- | --- | --- |
| | 4 Hours | 5-8 Hours | 8+ Hours |
| Room Fee | $100 | $200 | $300 |
| After-Hours & Weekend Surcharge  (each day) | $100 | $100 | $100 |
Please Note:
Reservations may not be booked more than three months in advance.
A COA for the refundable deposit of $100 is required to secure the room reservation.
Cancellations must be made at least 24 hours prior to the event start time.
EVENT SET-UP AND CLEAN-UP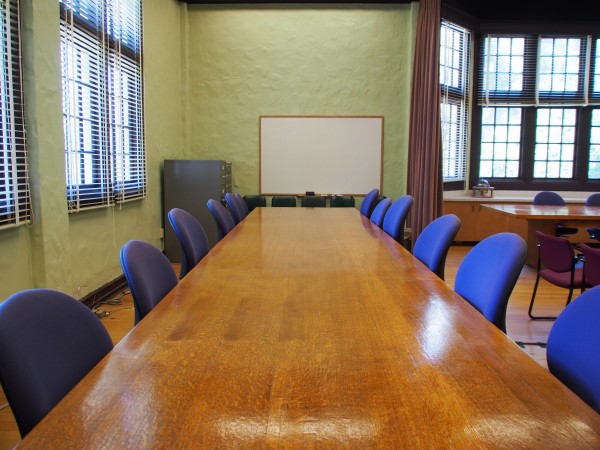 470 Stephens is set up in lecture style with a lectern at the front of the room and two long oak tables for panel discussions, luncheons, receptions, and dinners. Your event organizer is responsible for returning the room to its original state if the set up is changed. The day before the event, your event organizer can collect the key to 470 Stephens from CSTMS staff in room 543 Stephens Hall. The key must be returned the day after the event. CSTMS does not provide laptops or technical assistance.
It is your responsibility to ensure that the room is cleaned up at the end of the event. You are responsible for removing all trash and any posted signs from the premises. Trash cans should be placed outside room 470 by the elevator.
Failure to return rooms to their original configuration and/or remove trash and posted signs will result in forfeiture of the deposit.
ALCOHOLIC BEVERAGES
Alcoholic beverages require an Alcohol Permit from the UC Police Department. The completed form should be submitted to the UC Police Department and CSTMS no less than two weeks before your event.
EQUIPMENT
CSTMS can provide a set of small speakers, a lectern, a screen, and a laser pointer.  A projector is available for an additional $75 fee. The campus provides a guest wireless account.  Other wireless accounts require a CalNet ID or a currently valid guest account username and password.
Technical assistance is not provided by CSTMS. Technical support such as computer networking and video or audio recording can be coordinated directly with ETS.
470 Stephens has an additional 5 tables on locking wheels that can be used to creatively configure seating and work spaces for workshops or other events.
HOW TO RESERVE
Send an email request with the following information to cstms@berkeley.edu:
First and Last Name
Department or Center
E-mail Address and Phone Number
Date and Start Time of Event
Length of Event
Equipment Needs (Projector is an additional $75 Fee)
Other Questions
You will receive an email to confirm the status of your reservation request within seven business days. Your reservation is not finalized until you receive this notification.
DAMAGES
You are responsible for any damage to equipment, the building, and furnishings incurred during the event.
DISABILITY ACCESS
Disability access to 470 Stephens is available via the elevator. The restroom is accessible directly across from 470 Stephens.
CANCELLATION
If your event is cancelled, please notify us as soon as possible. Cancellations that are made less than 24 hours before an event will be subject to a fee.